When my husband and I returned from our honeymoon in early July, we returned with dry skin. It was a shock to me to see dry spots on my cheeks and under my eyes. I have combination skin, but my cheeks only tend to dry out during the winter, so you can understand my concern. I upped my water intake, and cut back on the caffeine to no avail. So, I did what I know how to do best. I went to Sephora.

The great thing about Sephora is that they will create samples of their products for you, so you don't have to spend a ton of money that you don't know for sure work on your skin. They also have a fantabulous return policy, but I digress.

I walked in and immediately became overwhelmed by the number of skincare products they had, even though I've worked for Sephora before. It is a beauty wonderland. I found a skincare specialist to point me in the right direction. As I described what was going on with my skin, the specialist went towards Murad. I cringed. I LOVE Murad but it's so friggin expensive. She picked out two products for me: Murad's Resurgence Renewing Cleansing Cream and Resurgence Sheer Lustre Day Lotion SPF 15. Le sigh. Ok Ms. Skin Care Specialist, hook me up with a sample and let's see what happens.

When I got home I immediately tried it out. Per the directions, I dampened my skin and then massaged a small amount (no more than dime size) on my skin. I immediately liked this product. I had no idea whether it was actually working on my skin yet, but the texture felt like a silk pearl. It had a nice light scent, like chamomile infused with fruit. It slid on my skin smoothly, and I did NOT want to stop massaging it in. I rinsed it off with warm water and dried my face. I touched my skin to see if I could feel a difference. It felt like butter! I then reached for the moisturizer and spread it on my face. I was happy to see that with this as well, a little goes a long way.

Can I just say that, that those dry spots almost immediately disappeared? They had definitely shrunk in size. By day 3 of me using these products, my skin was dry spot free, smooth as silk, and glowing. Murad and my skin are having a love affair, and I'm never turning back.

Murad Renewing Cleansing Cream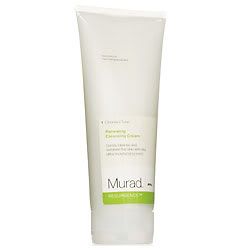 What it does:
Balances out the dry spots
Restricts the oily spots from creating more oil
Gently exfoliates without using harsh ingredients
Who it's for:
Women over the age of 40
Those who have combination to dry skin
Where you can buy it:
Sephora - $35
SkinCareRx.com - $34.95
Dermadoctor.com - $35
Pros:
Cleanses your skin while moisturizing
Exfoliates without scratching your skin
Cons:
None! It's pure perfection.


Murad Resurgence Sheer Lustre Day Lotion SPF 15

What it does:
Instantly hydrates and protects hormonally aging skin
Offers sun protection
Restores elasticity and radiance
Who it's for:
Women over the age of 40
Those who have combination to dry skin
Where you can buy it:
Sephora - $68
Skinstore.com - $68
Discountbeautycenter.com - $57.79

Pros:
Your skin stays moisturized all day
Doesn't slide or glide off your face
Cons:
Contains sparkles which is a little weird.