If you haven't noticed this about me from my various LOTD, when I find a product I love it take me a long time to try something else. This is especially true when it comes to mascaras. I am completely loyal to products that make my features do what it do. However, every once in a while if a product is on sale, or I'm just feeling sassy that day, I try something new (new to me anyway). So while I was standing in Ulta last week I pickede up L'Oreals Extra Volume Collagen Mascara.
"The luxurious, buildable formula infused with collagen creates breathtaking volume instantly. Glides on smoothly and lasts all day, with 12x more impact. No flakes, smudges, or clumps!"
Le sigh.
I should've known that a product that swears to do something by 12x would fail me.
Before
After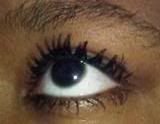 Me no likey. I feel like the mascara added length to my lashes, but I'm looking for this 12x more volume that it promised. I don't see it! As for no clumping, well, you be the judge.

The other thing I despised about this mascara was the wand. It didn't get a good grip on my lashes, so I couldn't apply it like I normally would.

For me this mascara was a fail. I can't even use it as my backup mascara. I keep using voluminous for that. However, if you'd like to try it, you can buy it for $8.99 at Ulta.

Product: 4/10
Pricing: 6/10
Packaging: 9/10

~HG